Sparre, Gädda, Bielke, Banér, Bonde, Brahe, and an unidentified family have their blazons embroidered on the altar cloth.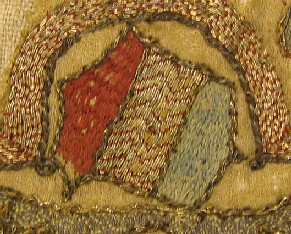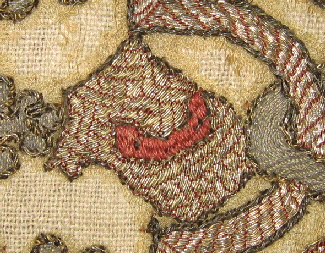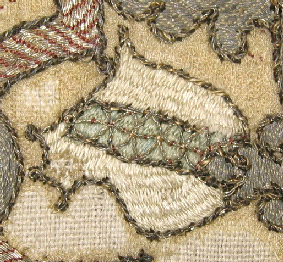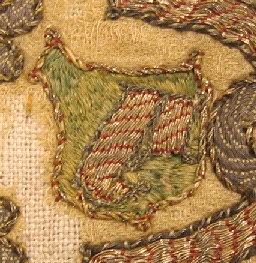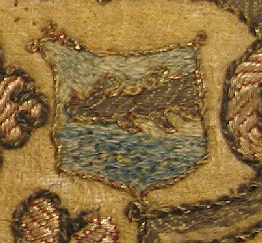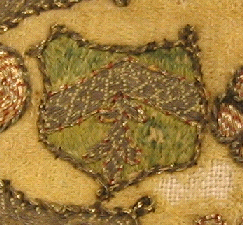 There may be reason to comment in short important events, which took place later on and affected the above mentioned kinsfolk. They came to affect the living circumstances in Askeby in a radical way.
Gustav Eriksson Vasa had during a critical period in his life accepted a few months of shelter from the family of Bielke at Brokind. After the Reformation, the 29 abbey courtyards in the parish of Askeby were donated to acknowledge the earl. The kinsfolk had by their donations and gifts to the abbey some connection to the parish. The son of Gustav Vasa, John III, had intentions to restore parts of the abbey buildings, since there was a need for a continued guest house and social facility, but these plans were stopped by Duke Karl.
This period of the Duke's takeover initiated some strong disagreements between him and the above mentioned families, and after a number of dramatical events it all came to an end with Linköping Bloodbath in 1600, as came to be considered as "the greatest legal scandal of the century." Duke Karl, with the support from a special composed parliament, could execute death sentences to Lars Sparre, Ture Bielke, Gustav and Sten Banér. The death sentences were realized on March 20th in 1600.
In 1604, the Duke was crowned to King Karl IX, in Norrköping, and thus he could mark his ruling of entire Östergötland.
Gustav II Adolf used great generosity in his wish to re-establish the confidence, especially with the Banér family who received leading roles within the nation.