While the Cistercian monks usually built their monasteries in uninhabited and mostly swamped areas, the nuns settled at locations with an existing church, close to a road and access to labour force.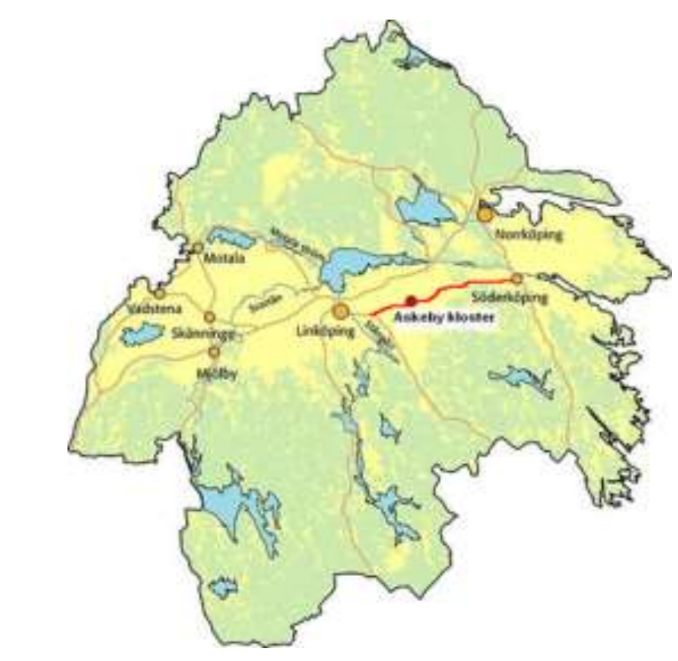 The abbey was situated by the ancient road between Söderköping and the central parts of Östergötland. About a kilometer to the East there was an important crossing over the water (Vadet), which explains why the road passed through Askeby. The village became an intersection of roads in several directions, and this is also where one of the king's courtyards and a church were situated during the 12th century.
However, Askeby became "the defeated abbey," both spiritually and politically. It was afflicted by damages during the time it served as an abbey and was finally ruined after the Reformation. The abbey was to a large extent anonymous; the relatives that previously supported it had now lost the political game, the abbey was caved in, the bricks in the outer walls were reused, and the abbey yard was transformed into a turnaround for horse carriages arriving to the granary that was built in the medieval congregational church in the 1770s. As the turnaround gradually expanded, parts of the east side abbey walls were torn down. The granary in Askeby was, however, for several reasons appreciated and of great use for the parish, something also worth mentioning. Askeby was during a few decades, a meeting point in both spring and autumn for peasants from four districts – somewhat of a new golden age for the parish.